I add green onions, chives, or spring onions as a garnish to almost every savory dish I make. J loves it and it's mild enough that the kids don't mind it at all and it's extra added nutritious boost.
The thing is, a small batch of green onions is almost $2 and they wilt and turn brown within days! I saw a hack where you added the roots to a glass of water and that really helped lengthen the shelf life on my garnish, so I did that for a while.
Then one day I was checking out my compost pile and low and behold the onion roots I discarded were flourishing, BIG TIME! It was an ah ha moment for me.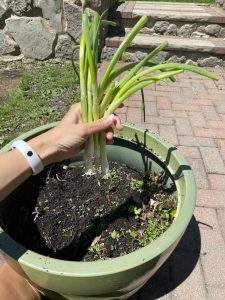 The next time I bought green onions I stuck the whole plant in a small pot of soil on my kitchen windowsill and they were greener and fresher than ever before.
After that I experimented with putting them outside in a giant planter that I had. I made minimal effort to plant these things. I just made a little hole in some preexisting soil and stuck the store bought onions in the dirt and covered it. At first they looked droopy and lifeless but within days those puppies perked up and were flourishing.
Everyday I go out and harvest some green onion to add to some of the dishes I make. I never buy them anymore! Well, the first one I did a couple of years ago eventually got huge and green part was a little tough. That just wasn't as apetizing so I simply bought another cheap bunch of green onions and started the processes over again.
I also have one on my window sill still.
I have had people ask me if they grow after you harvest each stem. They don't, but they continue to grow new sprouts and then the outer ones whiter away. Here is what the green onions looked like after I had been doing this process for a year. This was from March 2021 with the new buds coming in after a winter frost. They stayed out the whole winter.
So that's my green onion hack. It couldn't be any simpler even for someone with a brown thumb. It saves us money and spruces up the meals I make. Hopefully this little tip will be helpful to someone else.
Here is a video tutorial I made to sum up the whole easy process.