I spent my fortieth birthday in Chicago with my family and my bestie Mels (who rode the train in from Northern Michigan).
We did a whole family day, but one of the days it was just Mels and I. My goal was to do 4 coffee shops in one day for my fortieth birthday. I called it my #fourforforty and I had a fantastic time.
Evanston is a suburb of Chicago. Downtown Chicago is just 12 miles south of it. Evanston has a slower paced college town feel and I enjoyed resting and hanging out there instead of spending all of our time in the big city. I found out about the Main-Dempster Mile from Instagram. It the place to go for local small business shopping. The only reason I even ended up in this area is because we found the perfect AirBNB for seven people right there in Evanston. If you are looking for a place to stay near Chicago, I highly recommend "Huge 3 Bedrooms 2 Full Baths Entire Apartment" hosted by Superhost ALay.
The kids had their own room with large screen tv and two beds.
Mels had her own room and J and I had our own room and bathroom. We played games in the living room, had some meals in the kitchen and were even able to catch up on laundry. I give our stay there two thumbs up for sure.
Anyway, Mels and I headed off on foot from the Airbnb to explore the Main-Dempster Mile and to check out just a few of the MANY coffee shops in the area.
The first place we went was Cupitol Coffee/Eatery. I got a Nutella Latte, which was amazing. We had to have a couple pastries too because if you saw the selection you would see how irresistible it all is!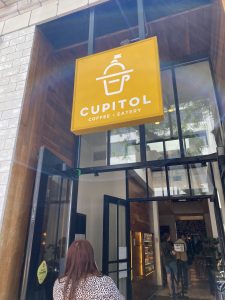 The second stop was Newport Coffee house. This place was for true coffee enthusiasts like Mels. She has run multiple coffee shops and has years of experience as a barista (as does the rest of her family). It was a very milimist environment, and I felt like grown up there (it's about time, right?).
You might be thinking How on earth can you get coffee 4 times in one day and not go into a caffeine coma? We actually did not get coffee at every place. Evanston Pour was more of a lunch stop for us. I got the Open-Faced Zucchini & Goats Cheese. Mels had salad and we split both got to try a sample. It was simple, fresh, and very tasty. I also LOVED the aesthetics in that place. Gave me some decor inspiration.
Lastly we hopped on the L and landed at our final destination, Backlot coffee where we both had an iced latte and hung out and chatted for longer. I love going to coffee shops. It was such a special, memorable way to ring in this next chapter for me. The only thing I love just as much is ice cream and we did some of that too.
We got Jeni's Splendid ice cream with the kids and J that night. They were having a special where everyone got a free scoop of icecream. HAPPY BIRTHDAY INDEED! Between the six of us we tried so many different flavors I was going to try to name them all but I can't remember. I do remember that they were all SOOO GOOD though.
Another bit of sweetness was when we stopped at JoJo's shake bar in Chicago the next day. As fate would have it they had a 90s music festival theme. I was singing along to all the music and love, love, loved all the patio decor. That was my favorite Chicago restaurant. I will never forget it, and the strawberry salad was honestly better than the shake in my opinion.
That's my whirl wind #fourforforty Chicago birthday trip. Thanks to my husband and best friend for making it all happen!