I just returned from an incredible three day trip in St. Thomas with my mom and my two sister-in-laws.
While I have told everyone that the four of us could have gone anywhere and had a great time this was a fabulous location for so many reasons.
First of all it's the Caribbean so it's gorgeous.
Also, when it comes to tropical islands it's one of the more economical options. You don't have to have a passport. You can spend money on all kinds of activities or you could just go to the beach for free.
Everything on the island is going to be pricey so we brought our own snacks and breakfast items.
We ate out at several different restaurants and aside from terrible service at one (which I believe was a fluke) all the food was DELICIOUS. If you are searching for a good place to eat I have a few recommendations.
Iggie's beach bar and grill was the first place we ate at. It was walking distance from where we stayed and, as with all of the places went, it was open air with a gorgeous ocean view!
We also had pizza at Sapphire beach bar. There were a few wild chickens roaming around which was fun and it really had that relaxing resort feel.

Lanai at Limetree beach was my favorite restaurant. It was soooo good!!! If you go, you have to save room for dessert. We were a little more dressed up because we went in the evening and most people around us were too.

 The Airbnb at Bologna Bay comfortable fit all four of us and was reasonably priced for all that was included. I would give it five stars! We had two bedrooms, two bathrooms, a kitchen, dining room, multiple TVs (which of course we didn't need) and a pool (which we also didn't need).
It also had crazy amazing views from the master bedroom and main room and patio area.
Every time my eye caught a glimpse of the view I was reminded of where I was and it was blissful!
There are several scenic overlooks on the island and plenty of nature to discover.
We saw so many fish, crabs, snails, and more .
The coolest sighting was the sting ray and two sea turtle we saw. I will never forget it. Brewer's Bay is perfect for snorkeling.
When we arrived my sister-in-law rented a car and while we knew she'd be driving on the left side of the road we were all shocked that the steering wheel was also on the left.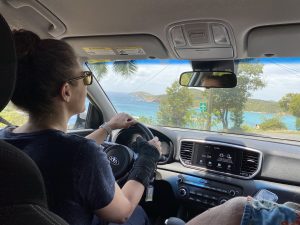 So basically it's like having an American car in Europe. Lindsey did phenomenal, but you may want to opt for an uber  if you don't feel confident with that scenario.  So that's the whole trip in a seashell (get it? instead of nutshell).  I wouldn't change a thing!