First off let me say that I love Chick-fil-A. If you read my blog then you probably already know that I am HUGE fan. However I do want to bring some attention to how Cow Appreciation Day has made some changes that I'm not too sure about just yet.
This will be our 7th year to participate in Cow Appreciation Day. I finally broke down and ordered a full blown cow costume for myself this year, but I am a little concerned that the tradition is starting to fizzle out. I do realize that this is going to be the goofiest thing I have ever gotten riled up about but here goes.
Cow day used to be on Fridays but they switched it to Tuesday last year. I remember because my bloggy friend at Little Dove was the one who noticed the date changed. I understand that Fridays are the busiest day and Tuesday are the slowest so it make sense to drive more traffic in on the slow day.
The thing I am disappointed about is that they are no longer giving a free meal to anyone dressed in a "Head to hoof" cow costume. Instead they are "simplifying" things by giving a free entree to anyone wearing any kind of cow accessory at all. This includes the paper hats that they give out for free at the restaurant. They are very clear on their website that you can dress up or just wear the hat.
To which I go from saying moo, to saying boo.
Now hear me out, I am not being greedy. I am thrilled to get a free sandwich or shake, plus the kids still get a free kids meal so I think that's super generous. The thing that chaps my hide is that there is no longer any incentive to get all dressed up.
Why would someone go out in full blown costume in the heat of JULY to get free food when all they have to do is throw on a paper hat provided by the store?  The campaign went from dress like a cow, to simply wear anything "cow like". Does this mean we will continue to see more and more patrons dressed up cute like this
or this?
I hope so because that's my favorite part to see all the creative costumes.
I do understand why they streamlined it because I am sure there were people showing up with a dot here and spot there demanding a free combo meal and complaining when they didn't get one. I just think they should at least have a photo contest to keep some buzz going for this event. 
So I emailed Chick-fil-A, because yeah I am that serious about this dilemma and I say Please tell me there is a photo contest. If there is a photo contest then I'm in. They sent me an automated response stating that they would eventually really reply. So, for now I guess I will begrudgingly go through with the original plan to wear my  cow suit. I suppose I could just have a good attitude and do it for my kids, but it's a really hot costume. Really hot. Seriously.
Aside from my oldest child who started at age 2 all of my kids have been participating in Cow Appreciation Day for their entire lives.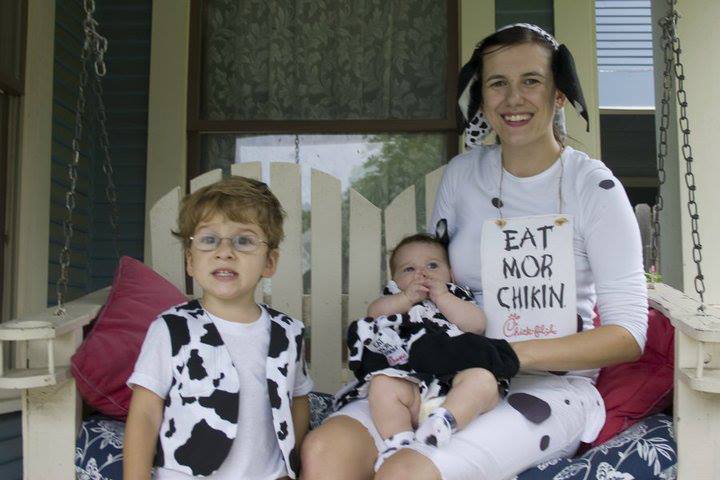 I've been a pregnant cow twice.
I had a daughter and a niece wear the same cow dress which will now be passed down to my youngest calf who I also by the way have a cow cloth diaper for.
This is big stuff in our family! I would hate to see the tradition dwindle away.
Let's keep the dream alive people and show our appreciation for cows all across this land! Come on Chick-fil-A. Please don't let us down.